Business and Life Insurance
Business Insurance: Protecting the Job of Your Dreams
You've launched your own business and worked diligently to succeed at being your own boss. It's not easy, and the last thing you want is your hard-earned success damaged or destroyed by unforeseen accidents.
At the Insurance Center of Milwaukee, we offer a host of insurance options to protect your business. These include: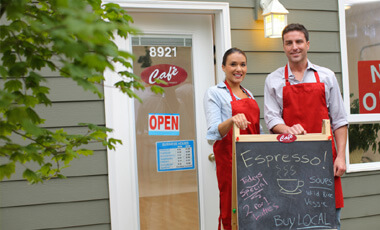 Property Insurance for Your Business - Akin to your homeowners insurance, business property insurance can protect both your building and your inventory in cases involving accidents, fires, and theft.
Solid property insurance can be vital to helping your business recover from an unforeseen event.
Landlord Insurance - An important subset of property insurance is landlord insurance, which covers your rental properties from a variety of damage and can even help pay for lost rental income as a result of your damaged property.
Auto Insurance - Your personal auto insurance typically won't cover vehicles used in the line of business.
If you run a delivery service, for example, you'll want good coverage for each of your delivery vehicles to keep from having to pay devastating repair and medical bills yourself after an accident.
Workers' Compensation Coverage - In Wisconsin, many businesses are required to carry workers' compensation insurance, which helps pay the medical expenses of your employees if they are injured on the job.
Liability Coverage - Strong liability coverage is the foundation of most business insurance. Liability coverage pays for damages where you are responsible for property damage or injury to a third party.
ICM: Structuring the Right Insurance Strategy for Your Business
Just as your business needs a sound strategy for success, you need a business insurance agency with the expertise to advise you on how to protect your investment.
At the Insurance Center of Milwaukee, we will meet with you, at our office or yours, to discuss your business and great ways to safeguard it. We'll put together a comprehensive package to cover against unforeseen trouble.
And as your local, independent agent, we'll continue working with you as your needs change. Call us today, and let us tailor an insurance plan for your business.
Life Insurance: Peace of Mind for You and Your Loved Ones
Your family relies on you and your support. While no one can replace you, life insurance can help provide the financial support your loved ones need if you are no longer able to provide it.
But life insurance can also be a valuable asset, growing in equity through the years. At the Insurance Center of Milwaukee, we offer our clients several life insurance choices depending on their goals, which include:
Term Life Insurance - This coverage provides a straightforward, affordable insurance option for a set term of years, typically between 10 and 30.
It's a good choice, particularly if you have young children and want to ensure they are financially secure if something should happen to you.
Whole Life Insurance - Whole life policies are policies that last throughout your entire life, providing both a death benefit and the ability to build cash-value equity in the policy that you can redeem during your life, if necessary.
Various whole life insurance policies give you options, such as payment and benefit flexibility.
In short, you need a life insurance agent that can help advise you on great choices for your family's goals and concerns.
At the Insurance Center of Milwaukee, we work with MetLife, one of the country's strongest life insurers, and will help you select the coverage that will provide you and your family support for the future, whatever happens.
At the Insurance Center of Milwaukee, we:
"*" indicates required fields